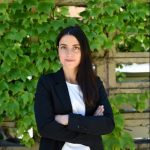 Cristina Lazcano, Principal Investigator 
Associate Professor of Soil Ecology.
Associate editor: Soil Science Society of America Journal.
Associate editor: Soil Research (CSIRO).
Dr. Cristina Lazcano completed her PhD at the Soil Ecology research group from the University of Vigo (Spain). Afterwards, she worked as a postdoc at the Technical University of Denmark, the University of Calgary and UC Davis. Before joining UC Davis in 2019, Dr. Lazcano was an assistant professor of soil ecology at the California Polytechnic State University, San Luis Obispo.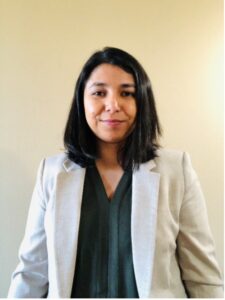 Sangeeta Bansal, Postdoctoral Research Associate                               Sangeeta is a Postdoc Research Associate focusing on soil health and sustainability of irrigated agriculture in the Southwestern United States. Her research interests include soil health, biogeochemical cycling, microbial ecology, and sustainable management of productive agriculture in the face of climate change. Prior to joining UC Davis, she worked as a Postdoc Researcher at South Dakota State University assessing soil physicochemical and microbial properties as influenced by integrated crop-livestock systems and native pastures, as well as the economic performance of cropping systems with cover crops in South Dakota. She has experience with research on microbiome-dependent early-season chilling tolerance in sorghum accessions. She completed her Ph.D. from the University of Tennessee, Knoxville, examining soil organic carbon and nitrogen turnover, carbon footprint, and greenhouse gas emissions following long-term integrated bio-cover, crop rotation, and conservation tillage ecosystems in Mid and West Tennessee. Her research training includes a master's in Plant Sciences from California State University, Fresno, and a bachelor's in Agriculture from Punjab Agricultural University, India.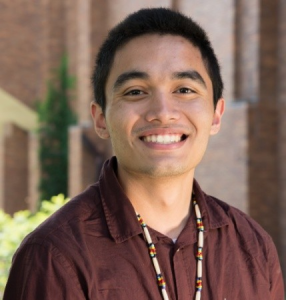 Joshua Garcia, Postdoctoral Research Associate         Joshua Garcia is originally from Phoenix, Arizona. He attended the University of California, Davis for his B.S. and majored in Biological Science with a minor in Chicanx Studies. While an undergraduate, Joshua worked in Dr. Amelie Gaudin's lab in agroecology, where he developed a strong interest in plant-soil-microbe interactions in agriculture. Joshua attended Cornell University for his Ph.D, where he worked in Dr. Jenny Kao-Kniffin's lab in rhizosphere ecology. His dissertation research broadly examined how microbial consortia in soils can influence different horticultural crop traits and biogeochemical processes utilizing a diverse range of research methodologies. Joshua is currently a Postdoctoral Research Associate examining the effects of climate-smart irrigation strategies and cover cropping on soil health and almond root systems in California almond orchards with Dr. Cristina Lazcano and Dr. Mallika Nocco.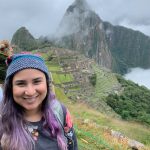 Noelymar González-Maldonado, PhD Student
Noely grew up in Lares, Puerto Rico. She pursued a B.S. in Agricultural Sciences at the University of Puerto Rico at Mayagüez where she did undergraduate research in saline-sodic soil management in semiarid tropical agroecosystems. After her undergraduate studies, she pursued a M.S. in Environment and Natural Resources at the Ohio State University with Dr. Steve Culman. Her master's project focused on studying the long-term and temporal effects of no-till and crop rotations in soil health focusing on labile soil organic matter dynamics and crop (corn and soybean) productivity. During that time, she co-founded the Women in Ag Science collective, a platform to connect, support and empower women in the agricultural sciences. Currently, Noely is pursuing a PhD program in Soils and Biogeochemistry at UC Davis with Dr. Cristina Lazcano where she will be focusing her research in managements impacts on soil health and crop productivity/quality from the soil biology perspective.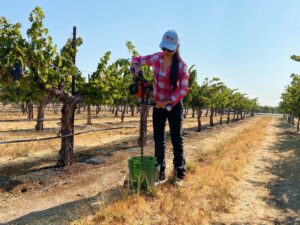 Connie (Tsz-Fai) Wong, PhD student
Originally from Hong Kong, Connie moved to the US upon completion of secondary education and obtained a B.S. in Biology at California State University, Fresno. During the gap years after her undergraduate studies, she had a brief experience working in the wine industry which sparked her interest in Soil Science and sustainable agriculture in vineyards and other cropping systems. She pursued a M.S. in Agriculture with a Specialization in Soil Science at California Polytechnic State University, San Luis Obispo, and her Master's Thesis focused on the effects of compost application on soil carbon and greenhouse gas emissions in a California Central Coast vineyard. She is currently a Ph.D. student in Soils and Biogeochemistry working with Dr. Cristina Lazcano at University of California, Davis. Her research interests are soil biology and microbiology, soil health, sustainable and regenerative agriculture.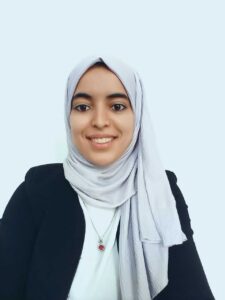 Halima Malal, visiting Fulbright PhD student 
Halima MALAL was born in a small town named Aourir Near AGADIR city in Morocco. After two-year technical degree in industrial and biological engineering, she obtained her associate degree and succeeded in integrating the Faculty of Science and Technology of Marrakech for the preparation of an engineering degree in Industrial and Food Safety. she was interested in the environmental aspect in general, and particularly in sustainable agriculture and the production of healthy food. Currently, she is a PhD candidate in environmental science at Ibn Zohr University, Agadir, Morocco, under the supervision of Dr. LAKHTAR Hicham. she is working on the amelioration of vermicompost process and studying its application on sustainable agriculture. recently she joined UC Davis as a visiting scholar after obtaining a Fulbright grant, she well works with Dr. Cristina Lazcano about the effect of organic amendment on microbial community of soil under abiotic stress conditions.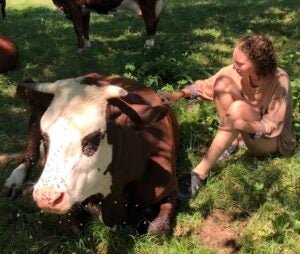 Courtney Emerson, MS Student 
Courtney is a Washington, D.C. native. In 2020, she graduated from the University of Pittsburgh, receiving a Bachelor of Science in Environmental Engineering, where her focus was on sustainable, organic, and commercial farming methods. She interned at organic farms in Gales Creek, OR, and Hilo, HI, and studied Agroecology in France at the National Institute of Applied Sciences in Lyon (INSA Lyon). Her current research concerns salinity management and soil health in California processing tomatoes and she wishes to continue regenerative agriculture research and extension in the future.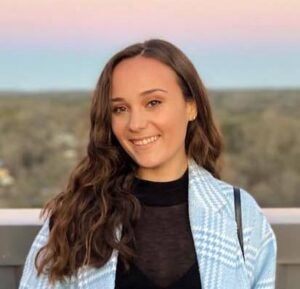 Amanda Rodriguez, PhD student                                                      Amanda is a Ph.D. student in the Agricultural and Environmental Chemistry Group at UC-Davis. Before pursuing her doctoral degree, she attended the University of Florida, where she earned her B.S. in Environmental Science with a minor in Chemistry and her M.S. in Soil and Water Sciences with a focus on Agroecology. Her master's research aims to improve fertilizer recommendations in Florida by assessing phosphorus sorption characteristics. During her time at the University of Florida, she also evaluated the relationship between iron oxide impregnated filter strips and other soil phosphorus extractants for U.S. soils of varying textures. Her current research focuses on developing a mechanistic understanding of the effects of regenerative agriculture on arbuscular mycorrhizal fungi colonization and grapevine nutrient and water use.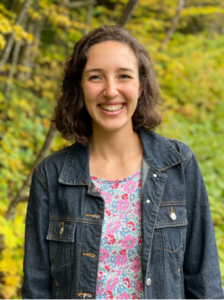 Sarah Brickman, PhD student                                                                 Sarah is curious about the potential for regenerative practices to increase agricultural resilience through improvements in soil health; she aims to support farmers in their efforts to adapt to climate change. As an aspiring agroecologist, Sarah is excited to learn from producers throughout California and work to understand how agricultural practices can better serve both people and the planet. Before joining the  lab, Sarah earned a B.S. in Earth Systems at Stanford University and a M.Sc. at the University of Vermont, where she studied greenhouse gas emissions in response to different nitrogen sources and application methods on hayfields in the northeastern U.S. Sarah grew up in Florida and enjoys reading, spending time outdoors, and connecting with family and friends.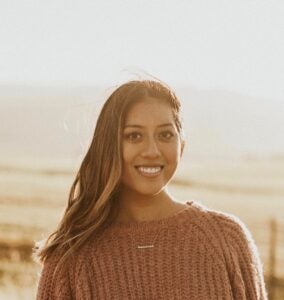 Erika Yao, Junior Specialist
Erika graduated from Cal Poly, San Luis Obispo where she earned a BS degree in Environmental Earth and Soil Science with a concentration in hydrology and a minor in watershed management. She has been involved in various research projects as an undergraduate, from looking at how natural soil thickeners can reduce landslide risk to land rehabilitation through the regrowth of native vegetation. Her research interests lie in the overall impact of humans on the environment, specifically, the sustainable interactions between humans and soil. She is currently researching the health of vineyard soils in Napa and Paso Robles, CA.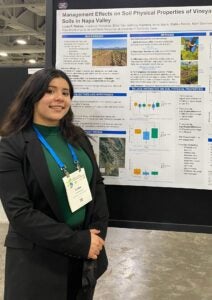 Luisa Robles, Student Research Assistant 
Luisa is a senior undergraduate student majoring in Environmental Science and Management with a focus on Soils and Biogeochemistry at the University of California, Davis. She is working as a Student Research Assistant helping both in the field and in the lab. She is interested in managing agricultural soils to ensure food security, improve soil health, improve crop resiliency, and mitigate global climate change through carbon sequestration. Other strong interests include soil restoration.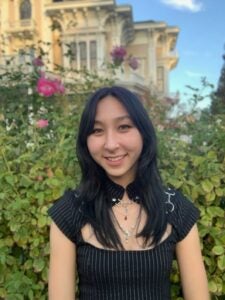 Anna Marrs,
Student Research Assistant
Anna Marrs is a 4th-year Sustainable Agriculture and Food Systems student with an emphasis on agriculture and ecology. She is currently working as a student research assistant focusing on the relationships between soil health and water management of California tomatoes. She has interests in the ecological restoration of soils and biodiversity, as well as the balance between soil health and crop productivity.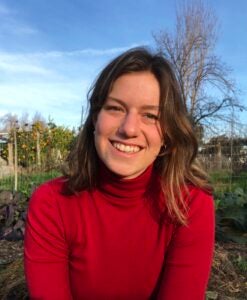 Claire Kisliuk, Student Research Assistant
Claire is an undergraduate senior majoring in Plant Sciences with an emphasis in soils. She currently works in the lab as a research assistant. She is interested in management of soils to benefit soil health, increase food security and mitigate climate change, as well as policy to support small-scale farmers utilizing practices to conserve and benefit soil.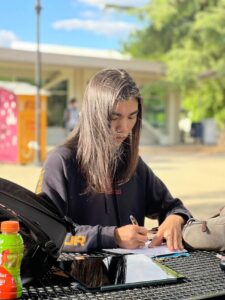 Leqian Zhang (Nono), Student Research Assistant                                  Nono is a UCD undergraduate student majoring in Sustainable Agriculture and Food System. Originated from Canton, China, Nono is especially interested in learning (sub)tropical agriculture and agroecology in Asia. He could spend much his break time self-studying soil science and agronomy, an authentic "Aggie". Nono attended the 2022 D.C. Agricultural Policy Conference on behalf of California. During summer 2022, Nono was doing internship at CDFA and working at Soil Ecology Lab.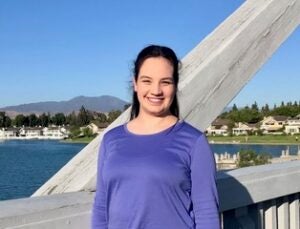 Alicia Hans,
Student Research Assistant  
Alicia
is a fourth-year undergraduate majoring in Environmental Science and Management with an emphasis in Soils and Biogeochemistry. Originally from Irvine, California, she discovered her love of soils through science fair projects in middle and high school. She currently studies the effects of vineyard management on plant-available nitrogen. She is interested in how regenerative management practices affect soil fauna, carbon sequestration, and nutrient and water retention in agricultural soils.
ALUMNI
Geneva Iversen-Krampitz, Student Research Assistant  (2022).
Emma Finlkalng, Student Research Assistant  (2022).
Anthony Alameda, Student Research Assistant   (2020-2021). "Effects of tillage and grazing on metabolic diversity of the soil microbial community in a Mediterranean vineyard" 
Eric Boyd, MS Student (2017-2020)
'Exploring the relationship between soil-borne disease resistance and the rhizosphere microbiome of modern strawberry cultivars' . Current position: San Luis Obispo County Ag Commission.
Marissa Yim-Sun, Lab Research Assistant (2020)
BS in Environmental Science and Management with an emphasis on Ecology, Biodiversity, & Conservation.
Holly Deniston-Sheets, MS Student (2016-2019)      'Short term shifts in soil nematode food web structure and nutrient cycling following sustainable soil management in a California Vineyard'. Current position: Data Analysis and Tactical Operations Center Coordinator, Citrus Research Board, California.
Ian Mann, Undergraduate Researcher 
Analysis of the production and recycling of bagasse in wineries of San Luis Obispo County (California).
Adriana Delucchi, Undergraduate Researcher
 AMF colonization and plant interactions across soil textures and soil moisture regimes.
Angus Chang, Undergraduate Researcher
Chemical changes during composting. He currently works in Yakima Valley, Washington as a quality assurance assistant for the many hop farms in the valley and surrounding areas
---
COLLABORATORS